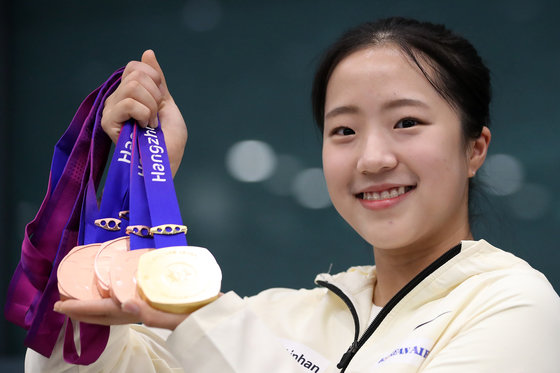 National table tennis player Shin Yubin (Korean Air) has reached the quarterfinals of the World Table Tennis (WTT) Champions Frankfurt.
Shin defeated Sabine Winter (GER) 3-1 (11-6 11-2 10-12 11-6) in the women's singles round of 16 at the tournament in Frankfurt, Germany, on Oct. 2 (KST).
Shin, who won the first women's table tennis gold medal in 21 years at the Hangzhou 2022 Asian Games, was briefly sidelined by injury but quickly found her stride.
"The Korean players overcame difficult matches in the men's singles, which gave me a lot of encouragement," said Shin. "I want to win as much as I can in my next match and finish the tournament happy and without regrets."
Earlier in the day, Lee Sang-soo (Samsung Life) and Lim Jong-hoon (Korea Exchange) crossed the 'Great Wall' in the men's singles.
Lee Sang-soo pulled off one of the biggest upsets of the tournament with a 3-1 (11-7 9-11 11-8 13-11) victory over world number one Pan Jeon-dong. Lim Jong-hoon also defeated China's Liang Jing-kun 3-1 (11-9 11-9 8-11 11-9). 19가이드03