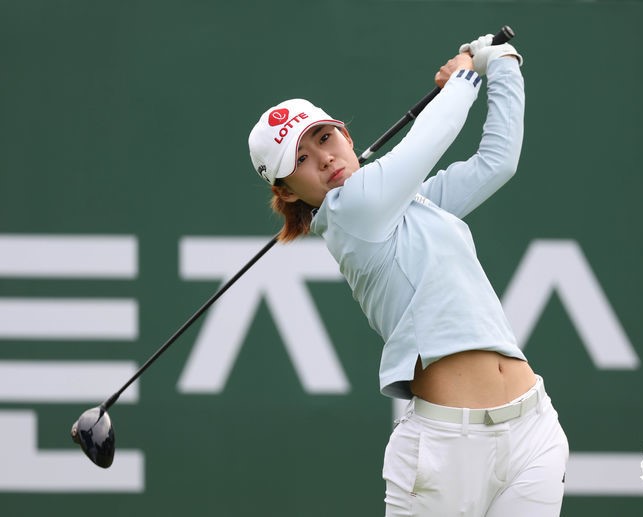 Nine birdies in second round to add 17 points
Tied for second place with sisters Ji-Hyun Lee and Ji-Hyun Lee 7
Rookie sensation Hwang Yoo-min (20, Lotte) carded nine birdies on the second day of the Korea Ladies Professional Golf (KLPGA) Tour's Dongbu Construction-Korea Land Trust Championship (KRW 1 billion, $180,000,000 in prize money) to jump to the top of the leaderboard.
Hwang Yoo-min added 17 points with nine birdies in the second round of the tournament at Iksan Country Club (Par 72) in Iksan, Jeollabuk-do, on Wednesday to sit atop the leaderboard with a total of 26 points.
The tournament featured a modified stableford format with a different scoring system than the traditional stroke play. Players were ranked by summing their scores on each hole, with albatrosses worth 8 points, eagles worth 5 points, birdies worth 2 points, pars worth 0 points, bogeys worth -1 point, and double bogeys or worse worth -3 points.
Hwang, who began the day in a tie for sixth place, had one bogey but nine birdies to lead the field.
After winning her debut at the Daewoo Women's Open in July, Hwang finished runner-up at the Jeju Samdasoo Masters in August, third at the KG Ladies Open in September, and tied for third at the Hite Jinro Championship on August 8.
Hwang's aggressive shooting on the day, which included nine birdies, will help her claim her second career victory.
Hwang spoke to the KLPGA Tour after the tournament and was pleased with her performance. "I think this course has a lot of birdies if you keep the fairways well, so I made up for that," he said. "My shots were a little shaky, but my short game and putts were good, so I finished well today."
Hwang explained that he played his usual aggressive shots without considering the modified stableford approach. "I think I'm very aggressive and I tend to be greedy when I play," he said, "so I'm not trying to be more aggressive, I'm just playing the same as usual."
As for his strategy for the rest of the round, he said, "It's important to hit the fairways, and I'm struggling off the tee right now. I think I need to work on my tee shots for the rest of the round," she said. "Also, the back of the greens are high, so I'm going to try to find easy putts rather than going for the pin."
Sisters Lee Ji-hyun 2 and Lee Ji-hyun 7 are tied for second with 19 points.
Lee Seung-yeon is fourth with 16 points. Park Hee-young, Park Do-eun, Bang Shin-sil, Jung So-i, Lee Chae-eun2, and Park Chae-yoon are tied for fifth with 15 points. 카지노사이트존