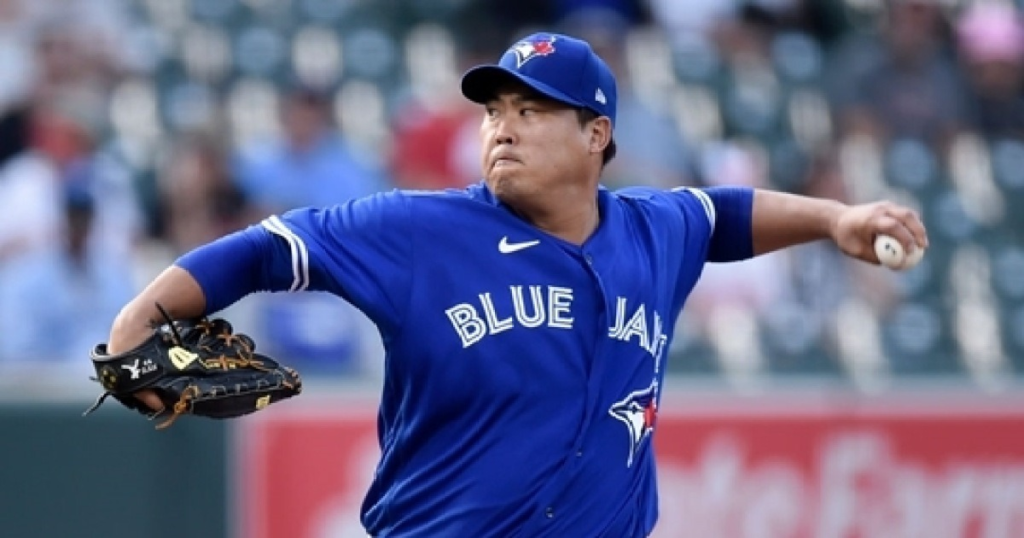 The "Korean Monster" Ryu Hyun-jin (36-Toronto Blue Jays) is finally back on the big league mound after a long rehabilitation. His opponent will be the Baltimore Orioles, a team that has transformed into a powerhouse.
Ryu will take the mound against the Orioles at 8:07 a.m. ET on April 2 at Rogers Centre in Toronto, Ontario, Canada.
It will be exactly one year and two months since Hyun-jin Ryu pitched in the big leagues. It's the first time since June 2 last year, when he went down with elbow pain after pitching against the Chicago White Sox.
He then went under the knife for elbow ligament reconstruction (Tommy John surgery) and spent more than a year rehabbing. This is the fourth major surgery he has undergone since coming to the United States, including left shoulder surgery in 2015 and arthroscopic elbow surgery a year later in 2016.
Ryu has surprised everyone by rising to the occasion whenever they're worried that it won't be easy. This time around, there were many expectations that it would take more than a year and six months, but true to his word, Ryu began his rehabilitation appearances in July and returned to the big leagues in August.
With Ryu back in the lineup, Toronto has a six-man rotation. Kevin Gausman, Jose Berrios, Yusei Kikuchi, and Chris Bassitt will be joined in the starting rotation by Alec Manoa, who returned before Ryu, and Ryu.
With 17 consecutive games in 17 days (from Sept. 29 to Oct. 14), Toronto was worried about pitching fatigue, but the return of the experienced Ryu Hyun-jin is a godsend.
Ryu's first game back will be against Baltimore. In nine career starts against the Orioles, Ryu has a 5-1 record with a 4.35 ERA. While he's gotten a lot of wins, he hasn't been an easy opponent, as his ERA is slightly higher than his career ERA (3.27).
Furthermore, while Ryu has been out, Baltimore has been "transformed" and is dominating the major leagues. The Orioles sit atop the American League East, a division full of powerhouses. At the bottom of the division are the New York Yankees, who have a winning percentage of more than 5 percent and still can't avoid last place.
His last start against Baltimore was at home on October 4, 2021. In that start, Hyun-jin Ryu pitched five innings of six-hit ball (one homer), two walks, seven strikeouts, and two earned runs to earn his 14th win of the season.
Baltimore doesn't have any "superstar" hitters, but there are plenty to watch out for. Especially the younger hitters who are starting to come into their own.
Anthony Santander, who has the most home runs (18) and RBIs (58) on the team, is the number one target. He doesn't have a high batting average at .256, but he does have one, so you shouldn't stack many runners in front of him. Five of Santander's 18 home runs have come with runners in scoring position.
Catcher Adley Rutchman is another hitter to watch out for. Lurchman is batting .272 with 14 home runs this season and has a .374 on-base percentage. His batting average against lefties is even higher at .290.
Gunnar Henderson and Adam Frazier are also among the other hitters who can hit for extra bases.
Ryu's opponent will be right-hander Kyle Bradish, 27, who is in his second year in the big leagues.
After earning a starting job last year and going 4-7 with a 4.90 ERA in 23 games, Brady has taken a step up in his second year.
In 19 appearances so far this season, he has posted a solid 6-6 record with a 3.29 ERA, including a 2.25 ERA in July when he went six innings or more in all five starts.
However, in his last start on July 27 against the Philadelphia Phillies, he was a bit shaky, giving up five runs in 6⅔ innings.
For now, Ryu is determined to focus on his pitching rather than his opponent.
"As a starting pitcher, 토토사이트 I want to help the team win," he told a local media outlet after his last bullpen appearance on March 30, "It's important what role I play as a starting pitcher. It doesn't matter what the opposing team is like," he said.