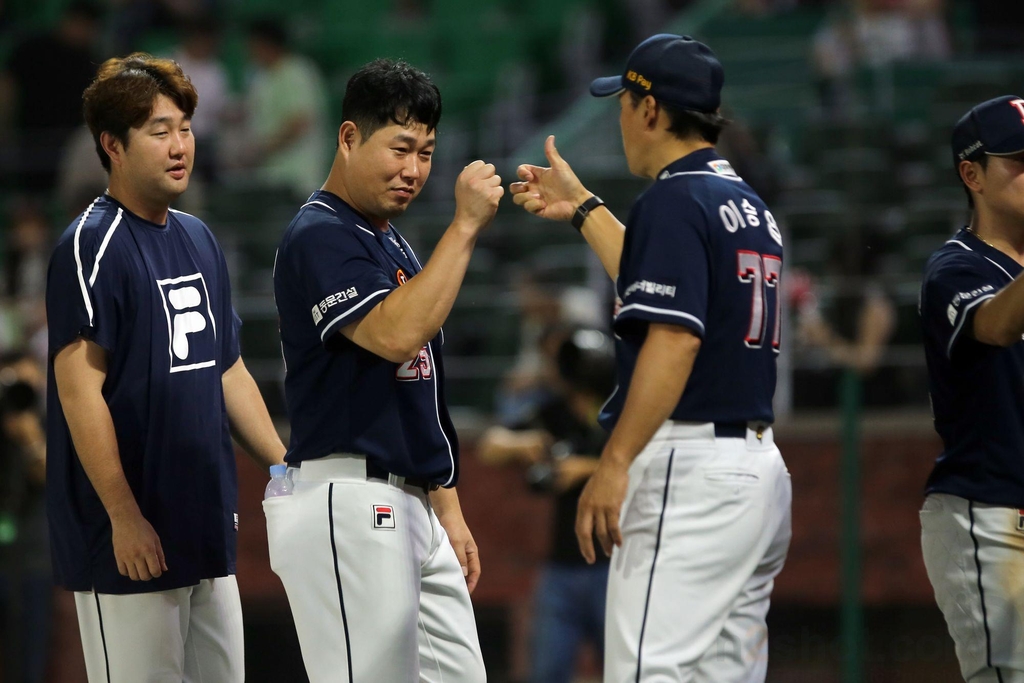 Doosan, led by 'rookie coach' Lee Seung-yup, won its first game of the second half to extend its winning streak to a team-high 10 games. Doosan's winning streak was led by Park Jun-young, the "belly" of the ball in a Doosan uniform this year.
Doosan won 5-2 against visiting KIA at Kia Champions Field in Gwangju on Nov. 21 behind a strong pitching performance from starter Alcantara and a three-run triple by Park, who also hit a wedge.
Doosan, which has won all 10 games it has played this month, has posted a 10-game winning streak for only the third time in its history, joining former manager Kim In-sung in 2000 and former manager Kim Tae-hyung in 2018.
Lee, who took over the reins of Doosan for the first time this year, is only the fourth rookie manager in history to win 10 games in his first year. Previously, Chun Bo-sung of LG (1997), Lee Hee-soo of Hanwha (1999) and Lee Kwang-eun of LG (2000) were the only other managers to win 10 games in their first year.
As far as foreign managers go, former Lotte manager Jerry Royster won 11 straight games in 2008, his first year in charge. If Doosan wins against KIA on Nov. 22, Lee will match Royster's record.
Down 1-0 in the top of the fifth inning, Doosan tied the game when Jose Rojas hit a solo home run off KIA starter Sanchez. In the sixth inning, Heo Kyung-min hit a solo shot to left field two batters later.
Driving a wedge in the game was Park Jun-young, who wore a Doosan uniform as compensation for catcher Park Se-hyuk, who moved to NC as a free agent after last season. With the bases loaded in the top of the seventh inning with a 2-1 lead, Park, who was batting ninth, took a nine-pitch at-bat against KIA reliever Choi Ji-min and hit a triple to right-center field.
Park made a heart-shaped gesture with his hands at third base, and Lee expressed his joy by pumping his fist in the air. Park, who joined the first team on July 7 against Kiwoom, is batting .467 (7-for-12) with eight RBIs in five games.
Doosan starter Raul Alcantara pitched six strong innings of one-run ball to improve to 10-3 on the season. With 43 wins, one tie and 36 losses, Doosan maintained its hold on third place.
SSG's Choi Jung-ho hits a grand slam home run with the bases loaded in the top of the 10th inning during the baseball game between the SSG Landers and the Doosan Bears at Jamsil Baseball Stadium in Songpa-gu, Seoul, South Korea, on Tuesday.
Second-place SSG cut the lead to 1.5 games with a 6-4 victory over the LG Twins at Jamsil Stadium. SSG took a one-run lead in the top of the fifth inning with the score tied at 2-2 on Choi Jeong-jeong's double to left-center before Choi Joo-hwan's two-run homer to right made it 5-2. Trailing 5-4 in the top of the seventh, Choi extended the lead again with an RBI single to right field. In the bottom of the ninth, closer Seo Jin-yong pitched a scoreless inning to earn his 26th save.
KT moved into sixth place with a 7-2 win over Samsung in Daegu. Last-place Samsung became the first team to lose 50 games (31 wins). Foreign pitcher Buchanan, who was scheduled to start, was scratched due to sudden knee pain. Jang Pil-joon, who started in his place, did not last past the second inning. KT starter Cuevas struck out 10 and allowed one run in eight innings to pick up his third win.
Fourth-ranked NC rode the back of ace Eric Pedi and a devastating batting lineup to a 9-3 victory over the Hanwha Eagles in Daejeon to reach the 40-win plateau for the season.
Lotte defeated Kiwoom 2-0 at home in Busan. With its eighth straight loss, Kiwoom is now one win shy of tying the franchise record for most consecutive losses (nine) set in 2009. Kiwoom ace Ahn Woo-jin pitched relatively well with six innings of two-run ball, 한국야동 but gave up a two-run homer to Jeon Jun-woo in the bottom of the third to take the loss.